Share this page


Products - Atlas ESR - Capacitor Analyser - Model ESR60
(Latest firmware R4.9)
Features automatic analysis start for easy hands-free operation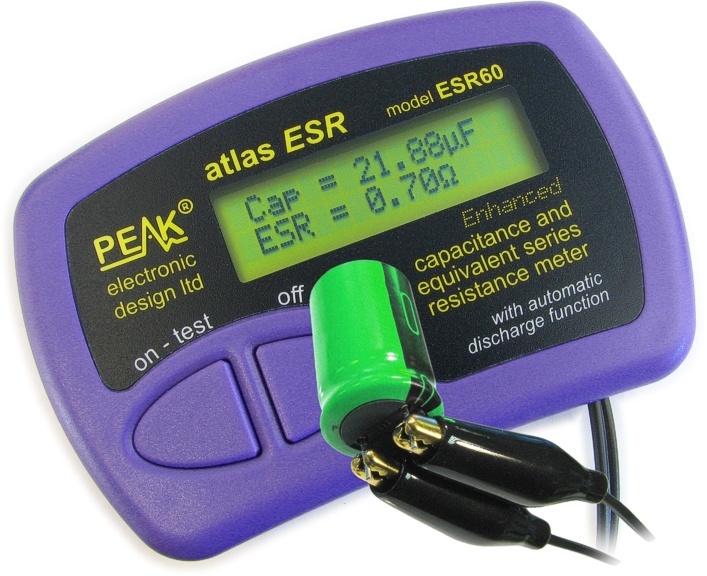 Measure Capacitance and ESR in one instrument
The ESR60 is the ideal tool for checking the condition of your capacitors. It will measure both capacitance and ESR (Equivalent Series Resistance) at the same time. You can even measure ESR with the capacitor in-circuit.
Features
Measure capacitance and ESR.
Suitable for any capacitor type between 1uF and 22000uF including motor capacitors, smoothing capacitors, electrolytics, polypropylenes, in fact any dielectric type.
Automatic analysis start when applying probes to capacitor, no need to press test for each component.
New enhanced dynamic range of 0.00 to 20.0 ohms.
ESR Resolution as fine as 0.01 ohms (typically 0.02 ohms).
Supports capacitors from 1uF to 22000uF.
Capable of In-Circuit measurement of ESR.
Polarity free, connect any way round.
Protected against charged capacitors, automatically performs a controlled discharge with no sparks or nasty shunts.
Suitable for low DC resistance checking (such as PCB short checking).
Supplied complete with 2mm male test leads and 2mm compatible gold plated crocs.
Test leads are ultra-durable and 45cm (18") long with 2mm plugs.
Enhanced software compensation of cable resistance.
Complete with comprehensive user guide.
Capacitance/ESR reference table included.
Tests at the industry standard 100kHz.
Long life alkaline battery fitted.
Auto power-off after 45 seconds if inactivity.
Just 103mm x 70mm x 20mm (4.1" x 2.8" x 0.8")
Now includes the new gold plated 2mm plugs and sockets allowing use of different probe types. Supplied with gold plated crocs as standard, others available as an option. Cable length 450mm (18").
Great Service Aid
Measuring a capacitor's ESR (equivalent series resistance) is a great indicator of capacitor condition. The Atlas ESR offers instant results, if the instrument is switched on then just connect the probes to your capacitor and the analysis starts automatically. You can even use the Atlas ESR in-circuit, saving you the trouble of removing capacitors. When testing capacitors out-of-circuit, the unit will also display the capacitance.
Tough
It's designed with the real world in mind. The Atlas ESR is the only instrument that automatically detects charged capacitors and then performs a controlled discharge process before measuring the capacitance and ESR.
Atlas ESR60 / ESR70 Comparison
Feature
ESR60
ESR70
Capacitance 1uF - 22000uF
ESR 0.00 - 20.0 Ohms
ESR 0.00 - 40.0 Ohms
Audible Alerts
Auto Analysis Start
Controlled Discharge
| | | |
| --- | --- | --- |
| Surface Mount Electronics Throughout | Gold Plated Crocs | Supports large and charged capacitors |
| | | |